KYC and Customer Experience: Two sides of the same coin
Well! This is no news that a financial institution needs to collect the user's data and do verification to establish the legitimacy of customers' identity before they can use the services. This is required not only to avoid product and service abuse but also to abide by the law of the land.
KYC is a precursor for users to obtain value from Flip or for that matter any financial product and is an essential part of the user onboarding journey. But, often, it can add friction to the onboarding journey.  
According to a recent study, for many financial institutions, although onboarding is not a showstopper, it's fragmented with too many customer touchpoints. The result is frustrated customers and a "leaky funnel"— 64% of account applicants abandoned the process in 2020―an all-time high.
Most financial institutions face the problem of providing a seamless onboarding experience while ensuring the users are genuinely who they claim to be. This is the same problem that we were facing at Flip. Though we had our KYC process in place, there were some legacy issues and limitations in our product and services…  let's put it like this "it did not provide the experience we wanted our customers to have."
In order to achieve our vision of being the most customer-centric financial services product, we took up the challenge to solve friction points in the KYC process…and here's how it all started…
Existing challenges
To begin with, our current process had a long verification time, and as we scaled, the need to add more operations agents started to increase. The growth of operations along with our user growth wasn't scalable.

We also found that many of our customers were abandoning the KYC application process. On a high level, our process had these steps:

Users completed the registration and started with the KYC process – users needed to add their details, followed by their id picture, selfie, and ID + selfie picture, and then wait for the approval process.
Pretty standard, but it typically would take around 24 hours to complete the approval (we were really checking the patience of our users here.. ☹️).
All this when they just wanted to complete the job for which they had installed our product.
Too much hard work, right?
In the era of Instagram and Snapchat, where people are used to instant gratification, this was indeed a lengthy process.
Problem Discovery
Before starting to think about the solutions, we wanted to dig into the problems further and we started with well, listening to our customers.

"If you understand the customer problem you dramatically improve your odds of successful innovation."

– Clayton Christensen, author of The Innovator's Dilemma
We were all ears to our customers... Our teams started doing surveys, interviews, and focus group discussions to get their valuable feedback. We wanted to hear them and understand their pain points, concerns, and motivations!
This is what our customers said…
They did not feel confident about how the process needed to be done.
Clicking pictures made them frustrated, most of them had to retry multiple times and still got rejected.
Most users just wanted to give our product a try but the lengthy application process was a big problem. They often sought help while filling out the application.
Users who got rejected did not know what needed to be done after that.
They contacted customer service and searched YouTube videos for help while filling out the application
Users had to wait ~24 hours to know the KYC application status. Most times they would forget or didn't feel the need to use the application after that long.

Not just our customers, we also talked to our KYC rangers( the team that takes care of back-office work related to KYC review and remediation) to get their perspective and learn about their pain points, their concerns. We sat with them and observed how they reviewed the applications and noted the to-and-fro that used to happen during this process, some of us even tried to review the details ourselves.

To build further on these insights, we looked into our data:
KYC completion rate, approval rate
Major drop points in the funnel
Rejection reasons
Percentage of customers who retried after being rejected
Verification SLAs
Complaints that our customer agents got
App/product reviews on different platforms
… and more

Finally, after spending time talking to our users, and looking into the data and customer complaints, we figured out the key problem areas in our current processes and journey.

The problem statement was clear — how do we make customer onboarding a quick and seamless experience while ensuring that we do our due diligence and control risks?
We then broke down our problem into smaller problems that needed to be solved together:
Simplify the experience for users to do KYC
Keep them motivated and help them generate value early on
Do all this while being compliant and mitigating risk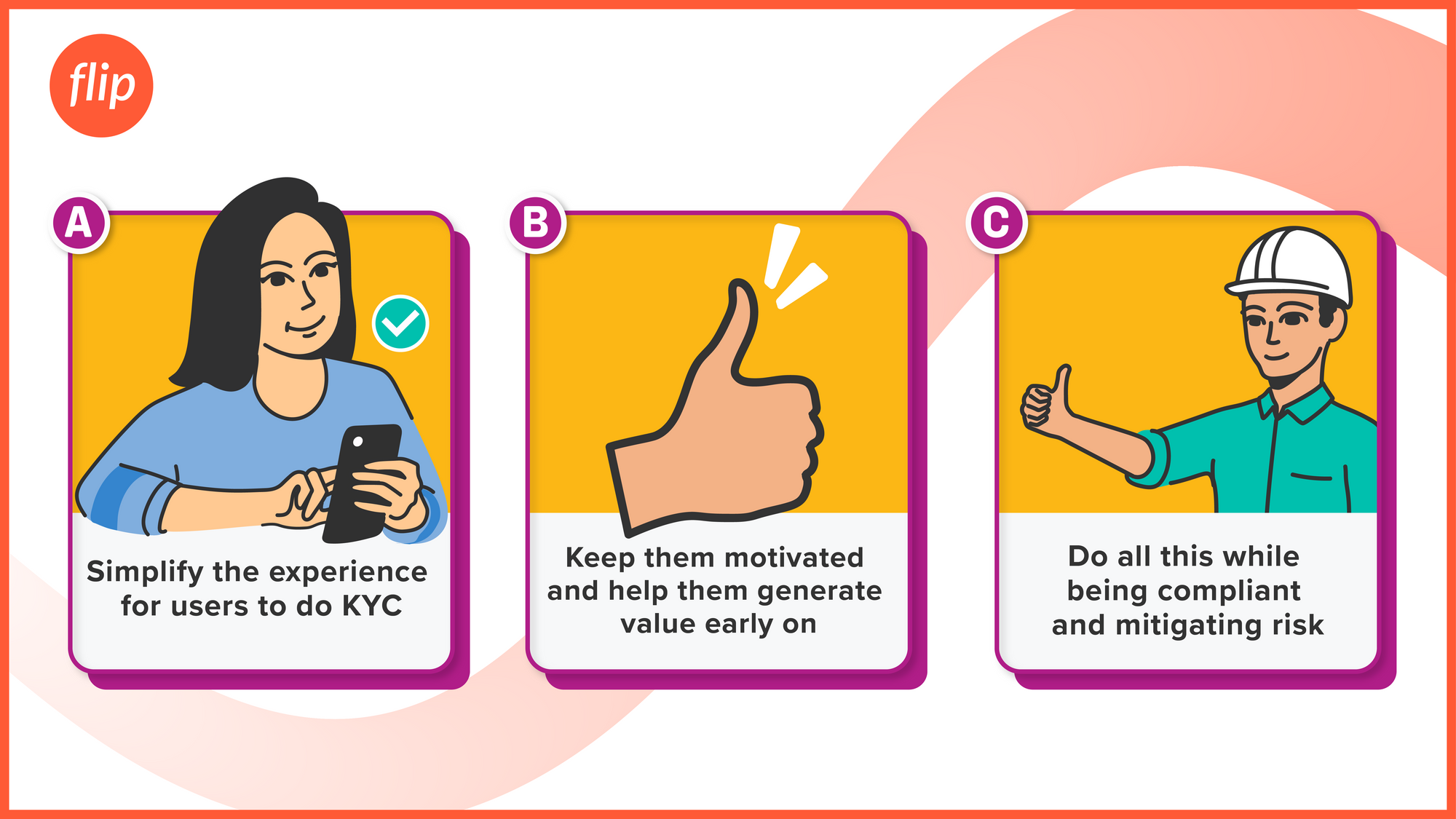 Principles behind the revamp
We had these core guiding principles to solve the key problems that were identified:

Consider the customer experience: Make customers happier and motivated from the onset of the onboarding journey and get them closer to leveraging the product value.
Build for scale: As we grow and add more offerings to our platform, we need to build our KYC platform for scale so that we can plug and play in the future.
Measure everything: The only way to understand when a change, big or small, results in a positive impact is to measure it. Like all complex processes, if you don't measure it, you cannot effectively change it.
Drive automation: Automation can come in different forms, so any investment needs to be evaluated from the perspective of its ability to improve efficiency and reduce regulatory risk.
Make customers self-serve: Reduce the touchpoints required and make the onboarding process self-serve.

Brainstorming solution
At the end of the problem discovery, we got our team together and used this knowledge to frame design challenges.
However, to prevent individuals from suggesting their preferred solutions, which might have little resemblance to the problems found, we did a How might we workshop that helped frame the problem(s) for ideation.
The team came up with many "How Might We" (HMW) notes, and more "How Might We" questions created more opportunities for solution exploration.
The activity started with each participant coming up with a 'how might we…' question related to our gathered insights and problems.

Bonus Tip: Avoid Suggesting a Solution in Your HMW Question!

Example:
Insight: Users often reach out to our agents because they're uncertain about the KYC application process.
How might we make users confident that they can complete the journey in a self-serve manner?
These statements were then grouped based on similarity and then voted by all the participants.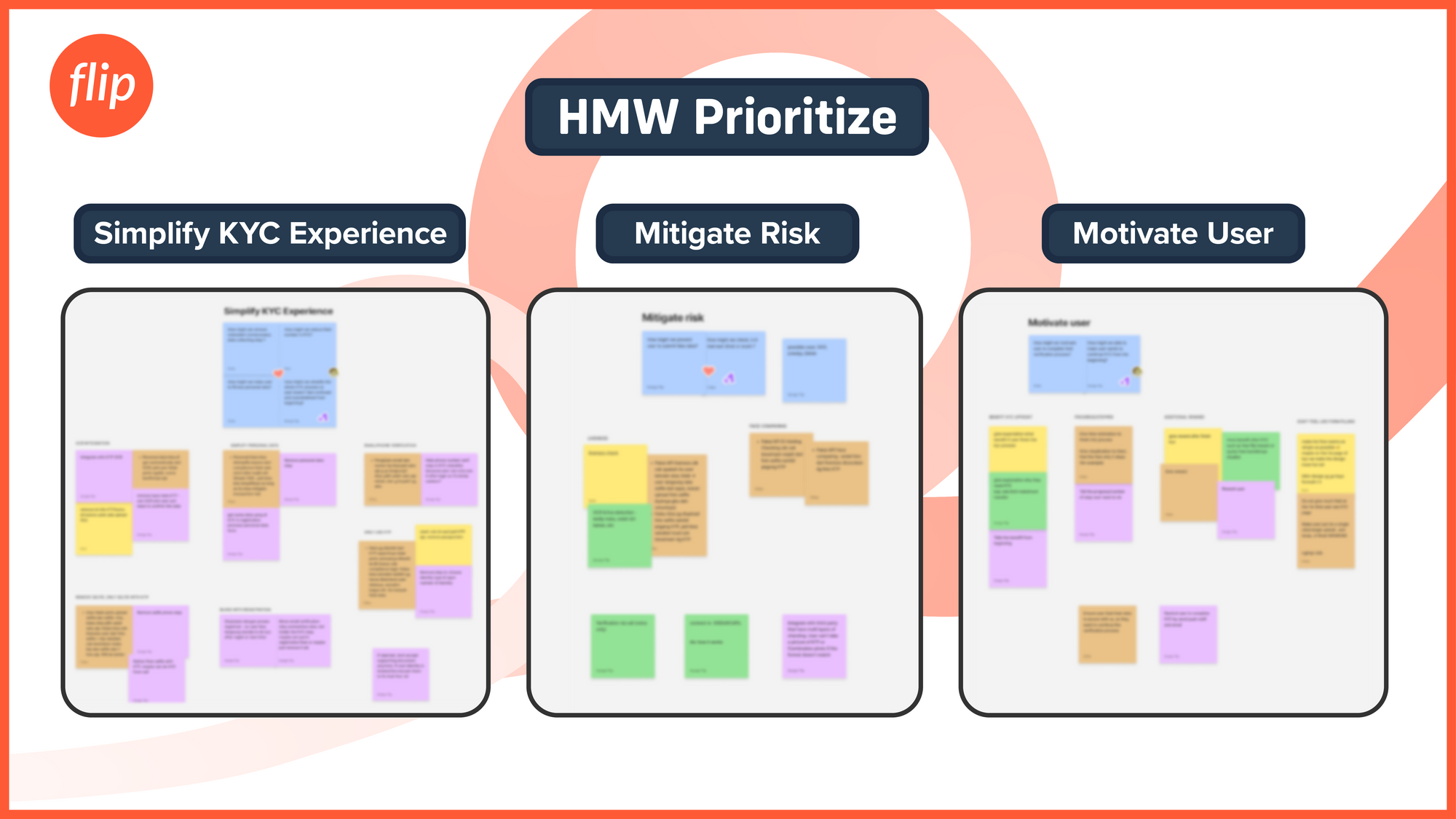 Idea generation
Once we got clarity and alignment on what we wanted to solve, we continued to brainstorm ideas for potential solutions.
We identified many changes that we needed to make-
The critical point is to help users achieve the jobs to be done as soon as possible so that they can experience the value our product provides and take benefit from it.

These are some of the changes we did:
Removed certain redundant steps: As we already capture a selfie + id combination picture, we did not need a separate selfie from the user.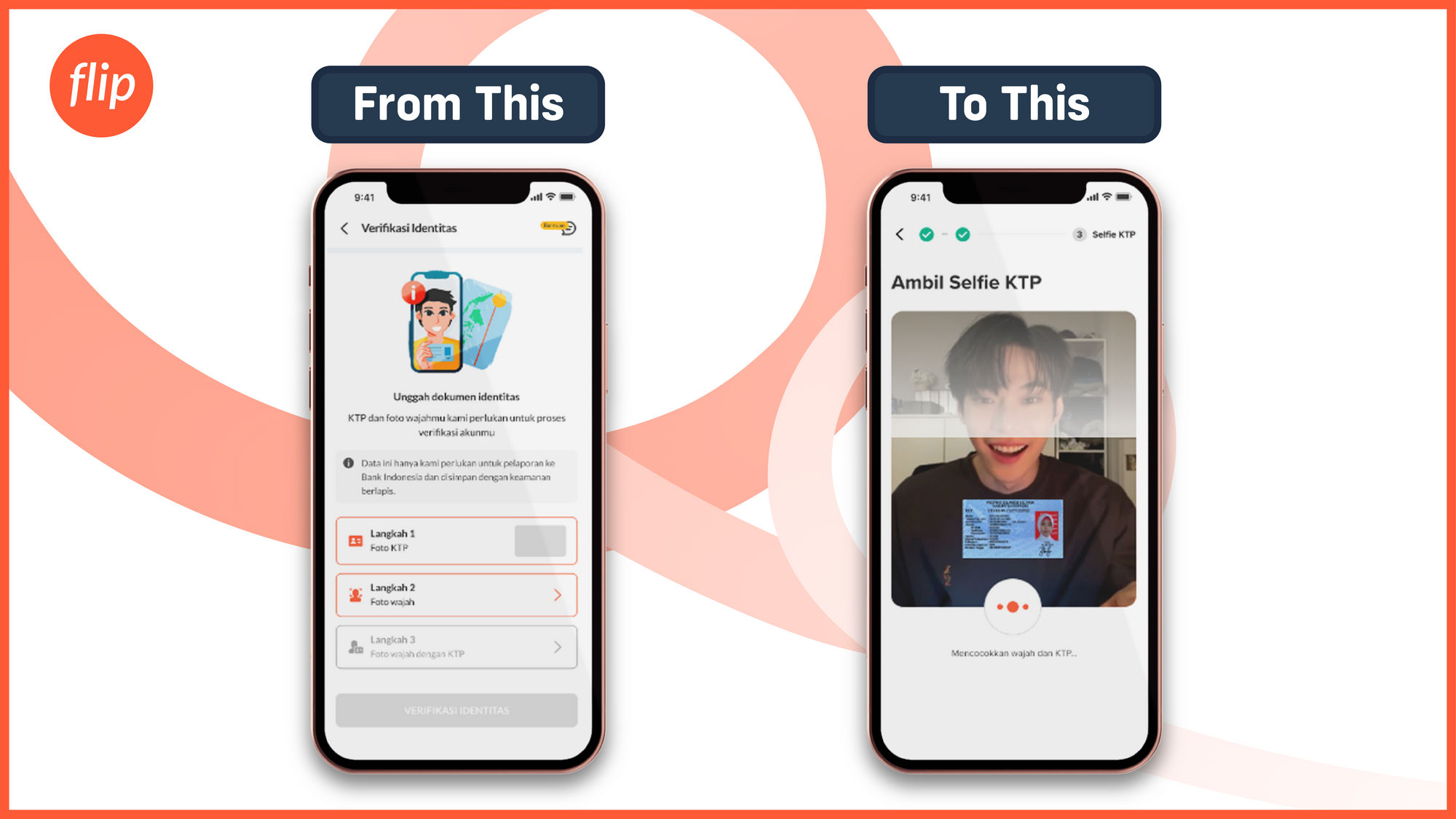 Optimized KYC-related activities and minimized unnecessary back and forth with customers. Removed the hassle of filling in the identity details by adding OCR integration.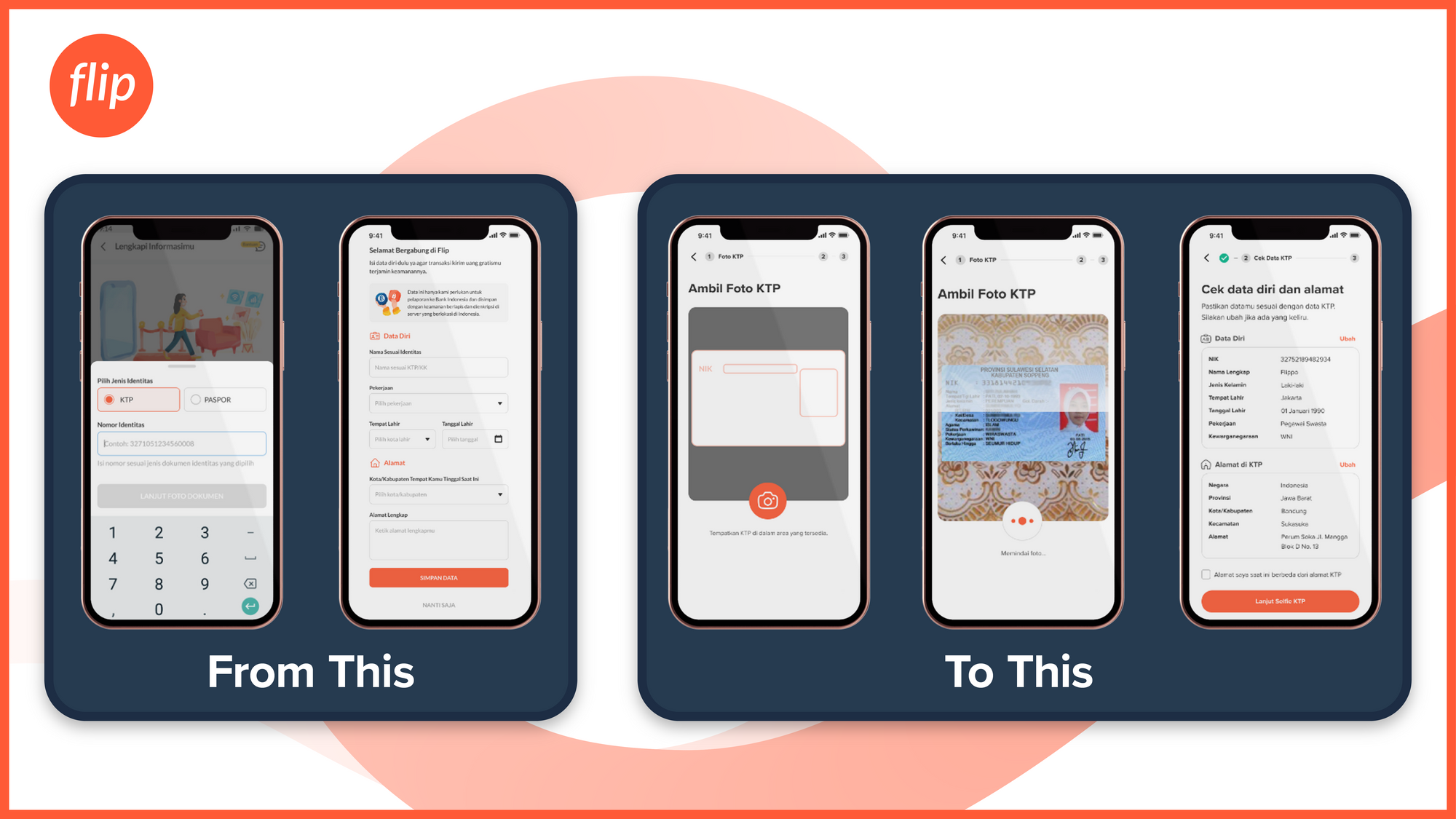 Provided in-app help to make users self-serve
Provided clear rejection reasons with the CTA of what needs to be done next to re-apply/provide additional information.
Automated the manual workflows our KYC rangers used to perform.

Our solution did not just make life easier for our customers, it also took the workload off our KYC rangers as well.

We started sketching the solution
To get a quick alignment and not invest too much time in doing high fidelity design, we built user flows and wireframes first.

Feedback and discussion took place and we iterated the design on medium-fidelity to explore finer details of content and layout.

And did usability testing...
We built a prototype and did usability testing by conducting interviews with our respondents via online video calls. Our researcher interviewed the participant to find out pain points while using the prototype.

This usability testing revealed certain pain points and we used that to iterate our solution and make adjustments. We scrapped some ideas and came up with a simple flow that could help us create happier customer journeys from the outset.

Defined metrics, created PRD, and decided on our MVP…
As a culture, we believe in outcome-driven development. We don't celebrate the launch of the products, we celebrate their success, and the only way to measure the product's success is to have clearly defined metrics. Hence, we defined the metrics we wanted to move and the ones we wanted to keep a check on.

While we do strive for excellence, we understand that we need to move fast so we sat with our engineering team to define the scope of our MVP.
Development started…
Now all the planning and brainstorming is not enough if it is not coupled with excellent execution.

"To me, ideas are worth nothing unless executed ... Execution is worth millions."   - Steve Jobs

With the bias for action, development started. We prepared epics, and stories, aligned on the timelines while accommodating efforts required from each pod, defined analytics, and data instrumentation requirements, and defined our key milestones.
D- Day: Launch
We had our rollout strategy in place and pre-aligned. The team started the new journey rollout incrementally while looking at the key metrics.. ensuring that while our KYC submission rate is improving, our activation rate does not get impacted.
Results were promising, not only did our application submission rate improve, our SLA for verification moved from 24 hours to ~ 90% of applications verified in less than an hour.

Some challenges we faced and key learnings
Simplifying KYC flow was a complex initiative, it had dependencies and impact on multiple teams and product areas - Operations portal, help center, consumer app, etc. Ensuring that all owners prioritized this work and didn't move away from the key goal became difficult.
Learning: It is easy for owners to get engrossed in other priorities in a workplace that is moving at a crazy pace. Over-communication and clear documentation are keys to keep reminding owners of the milestones! Communicate and then communicate some more...

At different stages, we found some small issues, different stakeholder expectations,
new scenarios that made the team question if we should ship or add that one more feature or fix that bug.
Learning:  At times, attention to detail and sweating over small issues can divert the team's focus from the key goal. It is okay to ship early with a few bugs. The key is to ask "Is this necessary?" more often. Understand the user impact and severity and prioritize ruthlessly.
Post-launch
It is fair to state that we are moving in the right direction and have achieved success in overcoming several challenges in the onboarding process. However, we are not done yet. Post-launch, we continue to look at our data and customer problems to drive the usage and improve our customer experience relentlessly.
Our goal is to delight our customers by offering a seamless and light-touch KYC experience that supports a rapid product onboarding process…
Hope you enjoyed a preview into the other side of the Flip world and while you're waiting for more, why don't you just give Flip a whirl!
P.S: We are on the lookout for some amazing product folks to join our organization and be part of more such stories !! 😀